WEC Laser has taken receipt of a new 4m x 2m 7Kw laser cutting machine, the first of its kind in the UK. This machine adopts single-head laser technology leading to reduced set-up times, increased productivity and ultimately cost-reduction for the customer. The 7Kw enables the laser cutting machine to cut thicker material; up to 30mm and with new software and linear drive technology in place, an increase in cutting speeds is visible.
This follows the recent purchase of a second laser tube & box cutting machine which provides a 20% higher production rate than normally experienced in the field combined with a unique level of flexibility and automatic adjustments. This feature makes it suitable for both small batches and large runs.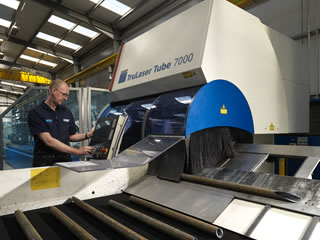 Description Latest laser tube & box cutting technology.
Continuous investment in new technology is the key to WEC Laser's dramatic growth over the past few years. This coupled with the build of a new 26,000 square foot facility back in 2009 enables WEC Laser to compete at the highest level.
WEC Laser provide laser cutting, laser tube cutting and laser box cutting services to the industry.
Visit
laser cutting website
Published 09/11/10