WEC Rail WEC Rail is a leading force in providing innovative design, fabrication and installation services to the rail industry for products including bridges, signal structures & gantries, rollingstock metalwork, electrical enclosures and CCTV products.
WEC Fabrication
is a specialised engineering service. Welding Engineering is our
heavy fabrication
division focused on delivering projects for aerospace, marine, automotive, defence and oil & gas. m-tec specialises in bespoke
architectural stainless steel
and mild steel projects and also specialises in the fabrication of major public art features.
WEC Laser
comprises Laser Engineering UK and 5750 Components Ltd providing
laser cutting
,
tube cutting
&
box cutting
to various industries using the latest state-of-the-art technologies. WEC Laser houses two tube cutting machines and eight flat bed laser cutters.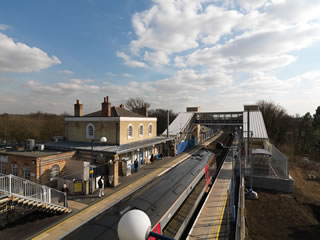 Description Our WEC Rail division provides bridgework, signal structure fabrication, rolling stock metalwork, CCTV mounting solutions and outdoor cabinets.
WEC Machining
comprises Hi-Spec CNC and Nutter Aircrafts Ltd. These two
precision engineering companies
provide CNC Machining for various industries. Hi-Spec Tail Lifts provide ambulance tail lifts and patient lifts for the emergency services.
WEC CCTV
is the leading manufacturer of
CCTV poles
, cctv columns and cctv towers in the UK. Whatever your camera mounting problem, WEC CCTV has the solution for you.
WEC Waterjet
offers customers a range of additional cutting services. With the capacity to cut any material up to 200mm thick,
waterjet cutting
enables us to offer cutting services for materials and thicknesses which are not compatible with laser cutting alone.
MTL Advanced
is our Sheffield-based, steel engineering and manufacturing partner operating from a 300,000 sq. ft factory.
MTL Advanced
specialise in armour plate manufacture, laser cutting and bending, high definition plasma cutting, waterjet cutting, gas profile cutting and robotic welding.
WEC Powder Coating
provide
powder coating services
nationwide. Utilising a state-of-the-art Gema Powder Coating system in-house, the division makes WEC Group a true one-stop-shop. The range of colours available is virtually unlimited.
Sherburn Metalwork Ltd
specialise in
Fabrication
, Sheet Metalwork and Robotic Welding. With over 30 years' industry experience and purpose built production facilities, Sherburn metalwork can provide a solution for any metalwork and fabrication requirement.
WEC Cooling
has manufactured, fabricated and installed vacuum coolers for a variety of uses all over the world since the 1980's. The company works with customers from concept to completion, to design a cooler which best suits their individual needs.
Goose Foot Street Furniture Ltd
design and manufacture high quality, stylish
street furniture
. The company also offers a bespoke service, so can design and custom-build products to customer specifications in batch orders or as one-off bespoke products.
Our
Welding & Engineering training academy
is the only one of its kind in the UK and trains 16-25 year olds in the art of welding and fabrication. Today, 14% of our workforce is made up of apprentices. WEC Training Academy has been recognised in the fourth Top 100 Apprenticeship Employers' list and the regional BAE Systems Award for Large Employer of the Year.