Bridgeworks
Access for All Bridges
Access for All is a current development programme with the objective of improving access from the station entrance to the platform of 148 train stations across the UK via the installation of bridges, lifts and ramps. The programme objective is to increase the ease of access not only for the disabled and elderly, but also for passengers travelling with children or carrying heavy or awkward luggage.

In 2006 Derek Twigg, Rail Minister for the Government Department for Transport (DfT) stated that most station infrastructure dates back to the 19th Century and it is necessary to work towards providing a more inclusive environment for all travellers. To tackle the issues, the government has committed £370 million to deliver a programme of access improvements which will last through to 2015.

Currently, train travel is difficult or in some cases impossible for disabled people, in 2002 The Disabled Persons Transport Advisory Committee (DPTAC) conducted a study which highlighted that due to restrictions disabled people on average make only two thirds the amount of journeys as the average non-disabled person. The DfT has split the £370 million cash injection into dosages, which will last until 2015 and be invested into the areas of train travel which will benefit the most, such as the £35 million a year which will go to the busiest stations across the UK to ensure accessible routes and step-free access throughout.
To read the full "Railways for All" DfT Strategy, click here
Go back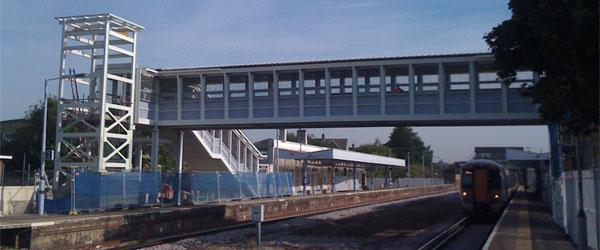 Description: An example of a WEC Rail Access for All Bridge (lift being installed on the left)